Welcome to Holy Trinity Evangelical Lutheran Church! We are a vibrant congregation located in the heart of Springfield, Georgia committed to the historic Lutheran Church and Confessions. For well over 100 years Holy Trinity has been a place of worship, service, and fellowship following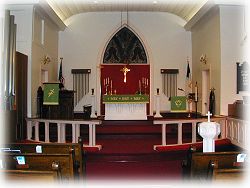 the Interior of Holy Trinity in Springfield example and commands of our Lord and Savior Jesus Christ.
The life of Holy Trinity is centered around our worship of God. Each week we gather for liturgical worship as the congregation corporately and individually enters into the very presence of Almighty God, our Heavenly Father. Our worship focuses upon the great Protestant traditions that emphasize the Word of God (the Holy Scriptures) and the sacraments, Baptism and Holy Communion, where we not only encounter God but He encounters us. Solid Biblical preaching, rich music and hymnody, artistic symbols of our faith, are characteristic of our worship "in Spirit and truth."
But great worship is not the only reason to come to Holy Trinity. At Holy Trinity you will find a loving family of people who gather to celebrate and rejoice in our God's salvation through the joys and trials of life. We are a mission-minded church that seeks obedience to the Great Commission and partners with a number of Christian ministries in a desire to reach the ends of the earth with the Gospel of Christ. Here you will find a family of God's people who will welcome you and make you a part of the Kingdom of God.
We invite you to come join us and experience the power and reality of God in worship and service!